Rostock et Warnemünde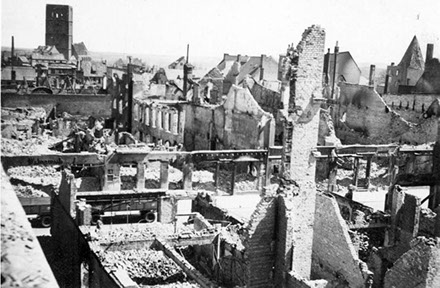 Rostock et Warnemünde dans la partie allemande de la mer Baltique, a été une cible privilégiée pour des attaques aériennes durant la guerre. Localisation de la ville, il était facile à trouver et à identifier, la guerre avait industrie importante, y compris base Heinkel usine d'aviation et last but not least, les villes ont un point de transit majeur pour les Allemands de connexion au Danemark et en Norvège.
Les premières frappes aériennes ont été moins déjà en Juin 1940, un plus en Juillet 1940 et en avril 1942 suite à quatre attentats majeurs, quatre nuits d'affilée, avec la participation de 161, 125, 128 et 106 bombardiers. L'objectif était de center-ville et l'usine Heinkel dans la partie sud de la ville.
Déjà attendre mai 1942 193 bombardiers remonte à l'assaut l'usine d'avions Arado à Warnemünde et il y avait d'autres attaques en Octobre 1942, avril 1943, Juillet 1943, en avril 1944 et le dernier en août 1944.
La marine allemande construit en 1943 marine bunker de protection T750 le port de Rostock. Il a été le LSB1400 type et pourrait offrir une protection pour les télécommunications en 1400 personnes.
" My grand mother was in rostock camp, taken from urss. Crying about hers friends dying during air attacks when she talked to me about it. Since this, she hates tulip, because there were tulips in front of one of a barracks blowed off with hers jews friends in it.
When the soviet were liberating the camp she talked in german to the soldier and never said she was russian. She left to france with my grand-father, he were here because of the STO. "
Nicolas
" Thank you for the information. My mother had to flee Warnemunde with her mother and siblings in 1945 as the Soviets were about to invade. They managed to get on a boat which took them to Flensburg where they stayed in a refugee camp for two years. My grandmother met an English sailor while she was in the camp. He asked her to come to England . They married and lived happily and very contented in a Northumberland village. "
Rossmannek
" I was born in Rostock on April 14,1941. My sister was 3 years old. My father was serving as a German war soldier. I cannot imagine what she and my mother experienced. The bombing of this civilian city was inhumane. I am now a US citizen and have proudly served in the United States Navy on the SS525 US Grenadier submarine during the Cuban crisis. To this day I do not enjoy fireworks of any kind and resent the anguish caused to innocent pets who cannot handle it either. It is a deep psychological pain. "
Roland Baran